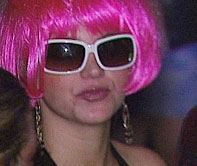 Britney Spears has played by the judges rule and went to Van Nuys County Jail last night (9:26p.m.) for the "official" booking. Don't worry though fans, she didn't stay long...actually she never even went into a jail cell. She was back out within 45 minutes.
"She was put through standard booking procedures which included booking photographs, fingerprinting and collection of information.

"Britney was at all time cooperative in the process. She was there approximately 45 minutes."
Britney was even offered the back door to leave, due to the press, however she took the front door. During booking she was asked to take off her pink wig. I'm glad to see they treated her like a regular, as we all know wigs could carry weapons. I wonder when we'll get to see her booking picture?